House Demolition Wolli Creek
Best One Demolition is Wolli Creek's most trusted home demolition specialist. We have been in the home demolition industry for decades and are highly recommended in the Wolli Creek region. Each and every home demolition project in Wolli Creek is unique and that's why we tailor our strategy according to the project type and specific needs of the customer.
There's no one size fits all when it comes to the demolition of your home in Wolli Creek. As we offer an end-to-end service, we can liaise with construction contractors hired by the homeowners to meet the deadline for project delivery.
We are your one-stop-shop for all house demolition requirements. We can also complete the excavation work for your property to change levels or dig out. There is no job too big or too small for the Best One Demolition team in Wolli Creek.
Demolishing a house is a job that requires the experts to step down. If you're looking to knock down your existing home, we're the demolition contractors in Wolli Creek that you need.
Our team are experts in the house demolition industry and have an abundance of experience ensuring your house is demolished efficiently and safely. Safety is always top of mind for our Wolli Creek home demolition team. Our friendly team of home demolition specialists in Wolli Creek are only one phone call away on 02 9099 9115.
Cheap House Demolition in Wolli Creek
If you're after a complete house demolition in Wolli Creek or you just need the interiors of your home removed, you can hand over your project to us with full confidence as we have the skills and equipment to take lead on the job!
We will complete your house demolition job from start to finish. We can remove any trees and stumps present near the demolition site legally. We'll even carry out waste disposal and excavation once the demolition is completed for you!
There's no house demolition project in Wolli Creek too big or too small for the team at Best One Demolitions Wolli Creek.
Here's why we're highly recommended and trusted in Wolli Creek for all house demolition work:
We provide a fast service and prompt responses to give customers peace of mind.
We visit the site to give a free cost estimate to aid customers in decision-making.
We complete the application process & obtain the approval from the local councils.
We disconnect all the utility lines, such as plumbing, gas, telephone, and electricity.
We have a site supervisor who oversees the demolition work from start to end.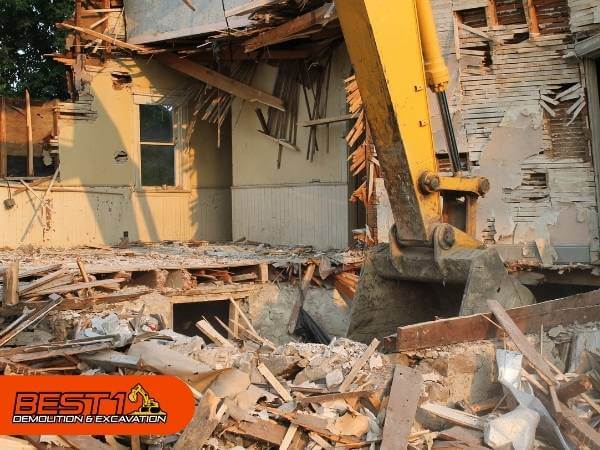 Knock Down House Wolli Creek Experts
When it comes time to demolishing an old house in Wolli Creek, it's impossible to do it yourself! You need to call the experts in from Best One Demolition on 02 9099 9115 to ensure the job is done efficiently and with safety top of mind.
We ensure that once the job is completed, we will clean up all the mess left behind and leave you with a completely vacant property. If you're after home demolition in Wolli Creek, you've found the right place. Our team are the house knock down Wolli Creek experts.
How Much Does House Demolition Cost in Wolli Creek?
Best One Demolition in Wolli Creek is known for their competitive house demolition prices in the Wolli Creek area. Each and every house demolition job is unique therefore there is no one price for all. That's why we are so transparent with the cost to demolish a home and always offer the most competitive house demolition prices.
The cost of house demolition in Wolli Creek is dependent on the following factors:
The size of the house being demolished
Whether there are any hazardous materials
The type of material the house is made of
The time it'll take to complete the job
The manpower required to efficiently get the job done.
Give our friendly team a call today on 02 9099 9115 for a free no-obligation quote for your house demolition project in Wolli Creek.
We are Wolli Creek's preferred house demolition company as we're reliable, honest and complete each and every job to satisfaction. We strive off the quality of our craftsmanship and that's why we have such a great reputation when it comes to home demolitions.
Contact Us For A Free House Demolition in Wolli Creek Quote
Best One Demolition is the best house demolition company in the industry and offers a wide range of demolition services in Wolli Creek. We have a great reputation amongst homeowners and builders. We ensure when we're carrying out your demolition job, its stress and hassle-free.
We're reliable and honest with all our work. Best One Demolition provides upfront pricing with no hidden fees so you know exactly what you're paying for. We are the experts in house demolition services in Wolli Creek.
Give our friendly team a call today on 02 9099 9115 for your free house demolition quote in Wolli Creek.